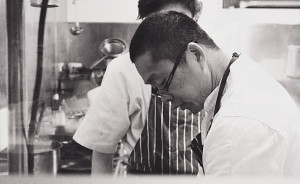 After working for 10 years in hospitality, Chef Jackie Chen envisioned of a place where everyone could enjoy and celebrate dishes inspired by his culinary experience. After living in Daylesford for the past 5 years, Jackie developed friendships and knowledge of local produce within the community. Realising the potential of creating dishes from a variety of local produce and offering a unique addition to Daylesford's assortment of good food and country-style hospitality – while giving back to the community at the same time, Jackie decided to establish Jackie's on Vincent in Daylesford.
Jackie Chen moved to Australia in 2008. While studying commercial cookery, he worked part-time in a variety of restaurants in Melbourne. While working with the Hutong Group – one of the biggest restaurant chains in Melbourne, owning China Red, Spicy Fish, Mantong Kitchen at Crown, among others, Jackie had the opportunity to gain and enrich his culinary skills and experience in Asian Cuisine.
In 2011, Jackie was a given the opportunity to work under the direction of renowned Chef Alla Wolf-Tasker of The Lakehouse in Daylesford. This is where he was able to enhance his culinary skills and knowledge of various cuisines with an emphasis on French cuisine. While working at the Lakehouse and living in Daylesford, Jackie developed a deeper appreciation of hospitality and sense of belongingness in the local community. Having dreamt of a place where he can have his dishes enjoyed by many, the idea of establishing his restaurant in Daylesford where he can source fresh ingredients from local producers and suppliers also appealed to him. In a place he now calls home, Daylesford gained a unique addition in its tradition of good food and country-style hospitality.